15 Feb

Odylia Announces Promotion of Ashley Winslow to President and Chief Scientific Officer

Atlanta, GA — February 15th, 2022

Odylia Therapeutics announces promotion of Ashley Winslow to President in addition to her role as Chief Scientific Officer.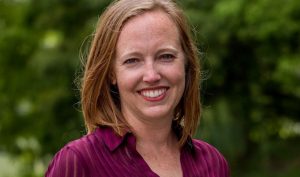 Dr. Winslow joined Odylia in 2019 and in that time has led the buildout of the organization's mission and vision. Odylia is a nonprofit biotech focused on bringing life changing treatments to people with rare genetic disorders. Through her oversight and leadership the company has built a pipeline focused on two gene therapies in preclinical development and launched a new service called Brydge Solutions to partner with patient groups and rare disease companies to help groups better navigate drug development in this unique space.
Scott Dorfman, who is Co-Founder and CEO as a patient advocate, stated "Ashley has proven not only to be an innovative scientist but has become a seasoned leader as well.  We are extremely excited with Odylia's growth and having Dr. Winslow heading both our Science and Operations as CSO and President will ensure our continued successes."
Luk Vandenberghe, PhD, who co-founded Odylia and is the Grousbeck Associate Professor in Gene Therapy at Mass Eye and Ear and Harvard, "is excited for the year ahead knowing the progress we made during the first two challenging years of COVID under Dr Winslow's leadership. Odylia's mission is focused on challenging the current barriers in drug development for rare disease and it has been exciting to see how readily groups, companies, and individuals with different stories rally around our goals."
Dr Winslow commented, "I am continuously inspired by the patients and families we partner with, and our staff's commitment to Odylia's mission day in and day out. I am proud of the progress we have made but I think our most exciting achievements are ahead."
Dr. Winslow earned Bachelor's degrees in Chemistry and Anthropology from the University of Florida and her PhD in Medical Genetics from the University of Cambridge. She has extensive drug development experience, having worked in both academic and pharmaceutical sectors.
About Odylia Therapeutics
Odylia is a nonprofit biotech focused on bringing life-altering and lifesaving treatments to those with rare diseases. Our vision is to change how drugs are developed for rare diseases by focusing on the science and patient needs, rather than the commercial potential. We partner with the patient community, researchers, clinicians, and financial donors to bring promising therapeutics to clinical trials. Our programs include preclinical programs in RPGRIP1-associated retinal dystrophies and Usher Syndrome. For additional information, visit odylia.org, and follow us on Twitter and LinkedIn.
About Odylia's Gene Therapy Pipeline
Odylia has disclosed two gene therapies currently in preclinical development. The lead program, OT-004, is an investigational AAV gene therapy that utilizes the Anc80 AAV vector for efficient gene transfer of RPGRIP1 to treat vision loss in patients lacking a functional copy of the RPGRIP1 gene. The second program seeks to treat vision loss caused by mutations in the USH1C gene which causes Usher Syndrome.
 About Brydge Solutions
As a non-profit, Odylia is uniquely positioned to empower rare disease partners. Brydge Solutions saves time, money, and, most importantly, improves the success rate of research or clinical and development activities. Odylia works closely with partners to tailor solutions to meet each Group's needs, both strategically and scientifically.