04 Apr

Odylia Therapeutics Announces Appointment of Khandan Baradaran, Ph.D. to Board of Directors

ATLANTA, Ga., April 4, 2023 – Odylia Therapeutics, a nonprofit biotechnology company focused on the development of treatments for people living with rare diseases, announced the appointment of Khandan Baradaran, Ph.D., Ultragenyx Vice President of Regulatory CMC to the Board of Directors.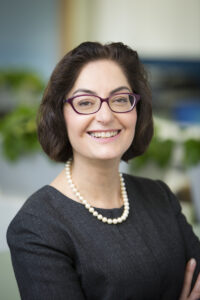 "As Odylia's portfolio matures, we need innovative thinkers on our Board who can pull from years of experience to help us synthesize innovative solutions. Khandan's experience working with rare disease programs and understanding some of the obstacles rare disease programs face will help us overcome those roadblocks." said Ashley Winslow, Ph.D., President and Chief Scientific Officer at Odylia. "This is an exciting time for Odylia as we begin to shape the future for nonprofit drug development. This model holds great promise in delivering the next generation of therapeutics to those living with rare diseases, and we are excited to engage thought leaders in this space."
Dr. Baradaran joins the Board from Ultragenyx, where she serves as Vice President of Regulatory CMC. She has more than 25 years of experience working with early and late-stage clinical development and commercial products with expertise in Regulatory Affairs, CMC, Quality Control, and Quality Assurance. She earned a B.A. in Molecular Biology from Wellesley College and a Ph.D. in Virology from Harvard University. "I am excited and honored to join the Odylia Board, serving rare disease patients and their families with the promise of gene therapy," remarked Dr. Baradaran.
"Khandan's background will critically expand our Governing Board's expertise. Her CMC and Regulatory experience is a real asset to Odylia, especially in the context of rare diseases where it is critical to balance risk with program timelines and budget," said Scott Dorfman, Chief Executive Officer at Odylia and Chairman of the Board. "As a fairly young organization, we depend on insights from our board and we're excited to have Khandan join us."
—
Media Contact:
Ellynn Szoke, Managing Director
eszoke@tieconsulting.us
973-761-4403
About Odylia Therapeutics
Odylia is a nonprofit biotech focused on bringing life-altering and lifesaving treatments to those with rare diseases. Our vision is to change how drugs are developed for rare diseases by focusing on the science and patient needs, rather than the commercial potential. We partner with the patient community, researchers, clinicians, and financial donors to bring promising therapeutics to clinical trials. Our programs include preclinical programs in RPGRIP1-associated retinal dystrophies and Usher Syndrome. For additional information, visit odylia.org, and follow us on Twitter and LinkedIn.