21 Sep

Odylia and Foundation Fighting Blindness will host a 4-part webinar series starting October 8th

Odylia and Foundation Fighting Blindness are hosting a 4-part preclinical and translational research webinar series. The series will focus on genetic technologies and will provide advice and educational materials to researchers in the rare disease space.

If you are currently working in or thinking about preclinical development, please join us for this engaging webinar series.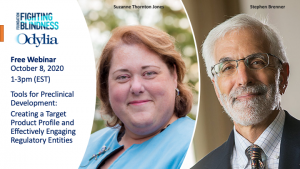 The first webinar, "Tools for Preclinical Development: Creating a Target Product Profile and Effectively Engaging Regulatory Entities" will be held on October 8th, 2020 from 1pm-3pm EST. Please see the link below for more information and for registration.
https://www.fightingblindness.org/preclinical-webinar