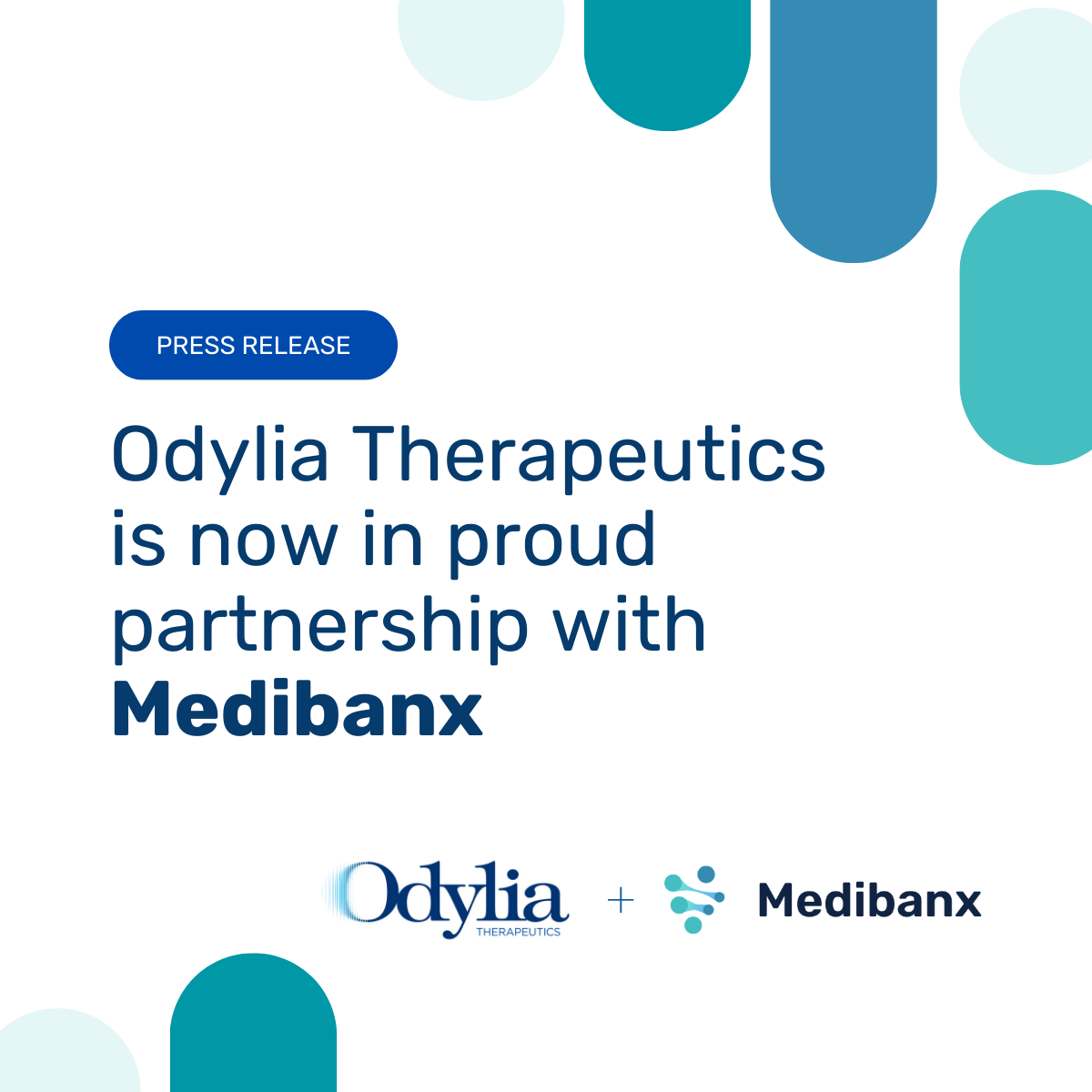 03 Oct

Medibanx and Odylia Therapeutics Announce Partnership to Advance Patient-Partnered Drug Development Efforts for RPGRIP1-Associated Retinal Dystrophy

Atlanta, GA, October 2, 2023 — Medibanx, a patient-centric platform that powers medical research through the aggregation and analysis of longitudinal real-world patient data, is excited to announce a partnership with Odylia Therapeutics, a nonprofit biotechnology company focused on the development of treatments for people living with rare diseases. Odylia is currently developing a gene therapy to treat vision loss caused by mutations in the RPGRIP1 gene. Mutations in the RPGRIP1 gene result in pediatric-onset and progressive vision loss, and most patients are diagnosed with Leber congenital amaurosis 6 (LCA6), Cone rod dystrophy 13, or juvenile-onset Retinitis Pigmentosa. This collaboration marks a significant milestone in empowering patient engagement in drug development and advancing Odylia's gene therapy to treat patients with vision loss caused by mutations in the RPGRIP1 gene. Follow the link to learn more.

The partnership between Odylia and Medibanx will engage the RPGRIP1 patient community to own their medical journey. The data within contributing patient medical records will support the clinical development strategy of Odylia's groundbreaking gene therapy for RPGRIP1-Associated Retinal Dystrophy.

Medibanx is committed to providing comprehensive data solutions that improve patient care, streamline research, and empower patients and healthcare providers. Our partnership with Odylia reflects our commitment to advancing rare disease research and the development of effective treatments.

Odylia, known for developing treatments for those with rare diseases, shares a vision for empowering patients by providing them with the knowledge, resources, and support they need to take an active role in their healthcare decisions and management. Together, Odylia and Medibanx aim to transform the landscape of healthcare with the following key objectives:

Accelerated Research: The partnership will accelerate research and development efforts. By accessing clinical, longitudinal, and real-world evidence data. Odylia will gain insights into the clinical understanding of cRPGRIP1-associated vision loss to support their path to clinical trials.

Precision Medicine: Our collaboration advances the future application of precision medicine approaches in healthcare, allowing providers to tailor treatments to individual patient's unique genetic profiles, hoping to maximize treatment effectiveness and minimize side effects.

Data Security and Compliance: Medibanx and Odylia are committed to maintaining the highest data security and privacy standards. We will ensure that patient data remains secure and complies with all relevant regulations and best practices.

Medibanx and Odylia believe that this partnership will have a far-reaching impact on healthcare, leading to better treatment options for rare disease patients and more effective engagement of the medical community. As we embark on this exciting journey, we invite patients, caregivers, healthcare professionals, researchers, and industry stakeholders to join us in shaping the future of healthcare.

Quotes:

Ian Taylor, CEO of Medibanx: "Medibanx is founded on the vision that patients should own their medical data. By owning their medical data, patients can direct how therapies are developed through partnerships with life science companies like Odylia. This partnership represents a fusion of data-driven innovation and biotechnology expertise. Together with Odylia, we are poised to redefine how healthcare data is utilized, ultimately improving patient care and advancing medical science."


Ashley Winslow, CEO of Odylia Therapeutics: "Patient engagement is at the core of each of Odylia's programs. Medibanx's unique approach to data collection empowers the patient and the healthcare community to participate in the drug development process from the beginning. We look forward to exploring how Medibanx's model will enhance clinical development efforts and our goal of bringing gene therapy to the RPGRIP1 community."
—

For media inquiries, please contact:

Ian Taylor, CEO & Founder of Medibanx
ian@medibanx.com
416-419-5194

Odylia Media
info@odylia.org

Ashley Windslow, CEO & CSO
awinslow@odylia.org

About Medibanx:
Medibanx is a leading provider of longitudinal medical data committed to supporting healthcare professionals and researchers in their efforts to advance medical research for new treatments, particularly in rare diseases. We empower rare disease patients and caregivers by enabling them to take ownership of their medical records and actively participate in managing their healthcare journey. For additional information, visit medibanx.com, and follow us on Twitter (@Medibanx), LinkedIn (Medibanx), and Instagram (@medibanx22).

About Odylia Therapeutics:
Odylia is a nonprofit biotech focused on bringing life-altering and lifesaving treatments to those with rare diseases. Their vision is to change how drugs are developed for rare diseases by focusing on the science and patient needs, rather than the commercial potential. They partner with the patient community, researchers, clinicians, and financial donors to bring promising therapeutics to clinical trials. Their programs include preclinical programs in RPGRIP1-associated retinal dystrophies and Usher Syndrome. For additional information, visit odylia.org, and follow us on X (formerly Twitter) (@OdyliaTx), LinkedIn (Odylia Therapeutics), Instagram (@OdyliaTx), and YouTube (@OdyliaTx), and Facebook (Odylia Therapeutics).